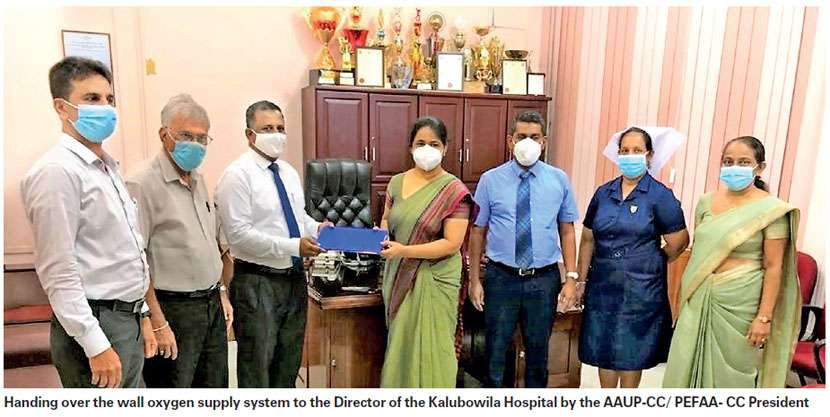 The University of Peradeniya Alumni Association--Colombo Chapter (AAUP-CC) is one of the most active university alumni associations in Sri Lanka, with a passion to help citizens during national disasters, has completed another successful community service project recently. The association with a membership of more than 2000 graduates worked under the leadership of Dr. Vipula Jayampathi the president of the association. The CSR project was initiated by the association to support the health sector personnel, who were working tirelessly to combat and control COVID-19 in the country, and also for the benefit of patients by donating Personal Protection Equipment, hospital equipment, medical devices and lifesaving equipment and systems such as oxygen supply systems for critical patients and other supplies required.
The total value of donations was nearly Rs. 20 million and the project continued for couple of months. Twenty-Two health institutions consisting of six general and teaching hospitals (Colombo North Teaching- Ragama, Karapitiya Teaching, Cardiology Unit-NHSL, CSHW-Castle Street, Lady Ridgeway, Colombo South Teaching-Kalubowila), five base hospitals (Homagama, Balapitiya, Horana, Pimbura and Marawila), four divisional and district hospitals (Gampaha, Wethara, Ambalangoda and Hikkaduwa) two national hospitals (Apeksha- Maharagama and Chest Hospital- Welisara) together with the MOHColombo Fort, CMC-Maternity & Child De p a r tment, COVID Intermediate Care Centre-University of Peradeniya, the Prison Hospital and Aparakka Ayurvedic Hospital were benefited from the donations of critically needed equipment.
The members of AAUP-CC and a large number of well-wishers coordinated by AAUPCC President Vipula Jayampathi and association members joined hands and contributed to the project in numerous ways. A dedicated team of AAUP-CC members coordinated the project liaising with needy health institutions and suppliers of equipment overcoming difficulties under challenging conditions due to the prevailed restrictions to control the pandemic situation at that time. The support received from the management and staff of these health institutions was commendable and it encouraged the task team to continue the project adapting to the situation. The suppliers provided equipment and transportation at reasonable prices, the AAUP-CC said.
The association was complemented by the recipient hospitals. With the escalating number of infections, University of Peradeniya established a COVID Intermediate Care Centre managed by the University Health Centre to cater to infected staff and students and their immediate family members. The AAUP-CC made donations of medical and other equipment with the request of university medical officials. Among these donations the wall oxygen supply systems for Horana Base Hospital and Colombo south Teaching Hospital were helpful at the critical stages of the pandemic to save the lives of the critical patients. It was revealed through hospital statistics, that these two projects helped to reduce the death rate due of COVID-19. These two projects were done with the collaboration of Peradeniya Engineering Faculty Alumni Association--Colombo Chapter (PEFAA CC) and the Institute of Engineers Sri Lanka.